2020 NASFAA Leadership Conference
---
TASFAA Members Gain Insight and Take Action at NASFAA Leadership Conference

Hundreds of NASFAA members gathered in our nation's capital last week for the annual NASFAA Leadership & Legislative Conference & Expo. Among the attendees were many members of TASFAA who attended this year's conference to learn more about financial aid leadership and compliance. TASFAA members also covered the U.S. capitol grounds to advocate for college students and for higher education finance reform.
TASFAA representatives, with the assistance of Bryan Ashton (Trellis), organized into three groups on day three of the conference to participate in the optional visits to Capitol Hill. Each group visited numerous Texas congresspersons to advocate for the legislative positions of both TASFAA and NASFAA. Among the attendees and visitors to Capitol Hill was TASFAA President-Elect, Taryn Anderson (University of Dallas). "Advocacy from TASFAA members at the state and federal level is important because we want to make sure our representatives have good information and know who they can contact when they need support," said Anderson.
TASFAA Board members provided the TASFAA representatives with a one-pager outlining TASFAA's priorities for legislative action which include FAFSA simplification, Pell for short-term programs, and the elimination of student loan origination fees. TASFAA representatives also spoke to legislators about NASFAA's HEA Reauthorization Priorities.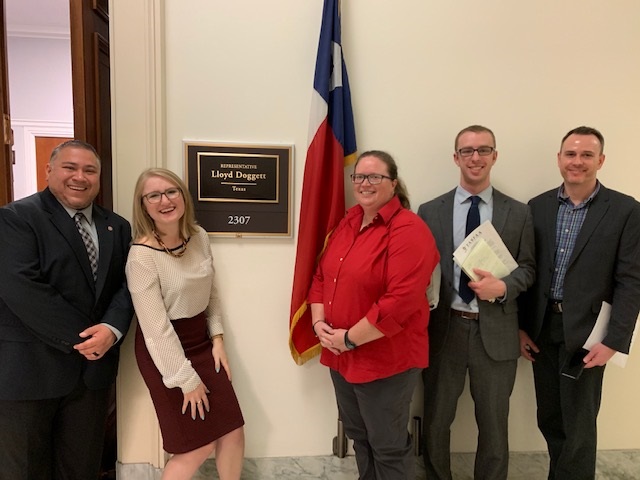 TASFAA reps Lonnie Rodriguez (Trinity University), Vanessa Verstuyft, and Jason Edens (both of Austin Community College) visit with Sarah Laven Jones, Legislative Assistant, and Adam Golden, Legislative Fellow, in Representative Lloyd Doggett's office. 
This blog post was sponsored by:  
Share this post: